A introspective post is in the works about this past year. About two sisters who are so very different but in some ways very much alike. One of the ways that we are alike is that we are hard working and always up for a challenge.
Along the way - we've met and pursued relationship with several talented creatives. Some we've known since almost birth, others we've known from times past and renewed our friendship, and still others are new friends with whom we are building ties. We've discovered that by being open to opportunity, no matter how small - you may open doors to even greater opportunity.
Honesty, hard work, and a commitment to learn, these are things we value and are striving to meet others of a like mind.
This weekend we are co-hosting an event to help us continue chasing this crazy dream. It's one half meet new creatives and grow our working relationships. And it's one half meet brides and grooms to be, while introducing them to a pool of local talent.
I know that when I was planning my big day, I didn't attend any bridal shows or expos. I knew that I wouldn't be able to afford any of their services so why even go?
This is not that event. I cannot speak for all the vendors in attendance, but I will not be overbearing, overpricing or have a stuffy table. :) I will proudly show you my new album which is beautiful and expensive. I will share my candy. I will hand you a business card. And I will invite to enjoy your day at our intimate mixer. Hopefully this event will be a fun easy going party in the midst of a fast paced hectic L.A. season of your life.
Enjoy all the pieces of the planning. It will fly by all on it's own.
www.laweddingmixer.com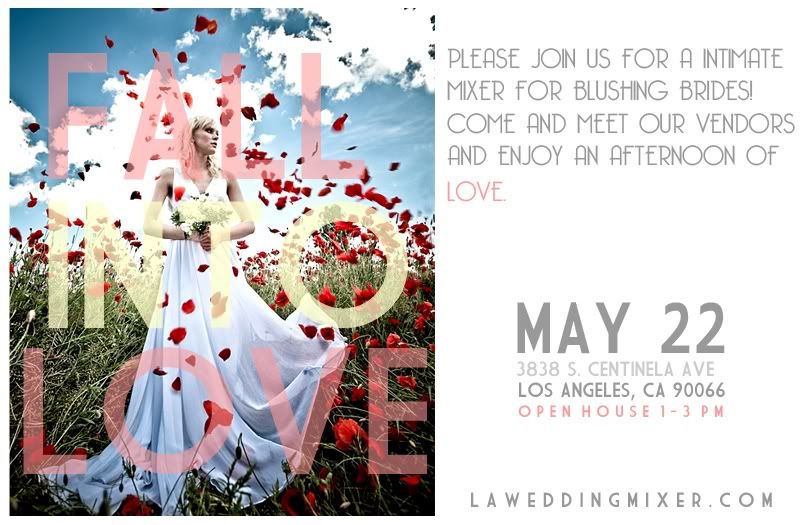 graphic//giant workshop